Employer Learning Forum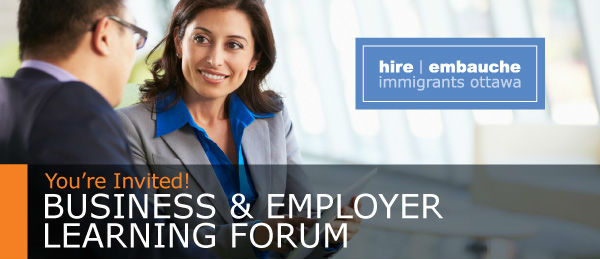 November 25, 2020
Dispelling Myths and Misconceptions about hiring Immigrants.
Award winning Ottawa employers share their experiences and strategies for attracting and leveraging immigrant talent.
The Ottawa Board of Trade and Hire Immigrants Ottawa invite you to hear from Employer Excellence Award winners and an immigration expert as they dispel common myths and misconceptions about hiring immigrants and share their practices and strategies for attracting, engaging and retaining immigrants – now and into the future.
Employers often express concern and confusion about the real and perceived challenges related to hiring and retaining immigrants. "Do immigrants need a special work permit or visa?" "Is it possible to hire a refugee claimant or international student?" "Immigrants won't fit in with colleagues."
These myths contribute to a persistent challenge in Ottawa's labour market: businesses continue to face talent shortages and skilled immigrants continue to be overlooked and underutilized. Addressing this challenge and fully utilizing and integrating the skills and talents of immigrants is more important than ever and will be key to recovery and growth.
Participants can expect to learn:
Understand and dispel common misconceptions and myths about immigrant talent;
Learn strategies business leaders are implementing and adapting to attract and include immigrant talent;
Gain recruitment insights from Award winning employers; and
An opportunity to have your nagging questions about hiring immigrants answered.
Panelist:
Warren Creates, Immigration Lawyer, Perley-Robertson, Hill & McDougall
Brenda Pastorek, President & COO, Northforge Innovations Inc.
Michaela McBean, Senior Director, Organizational Effectiveness, Payments Canada,
Luise Sander, Co-President, Sander Geophysics (SGL)
 WHEN: Wednesday, November 25, 2020 (1:30 PM to 3:00 PM) – on Zoom
REGISTER: Online
ADMISSION: FREE – Advance Registration is Mandatory by November 23, 2020.
AUDIENCE: Employers, Small to Medium-size Enterprises, HR Practitioners and Managers.
For additional information, please contact us at events@hireimmigrantsottawa.ca