The Ottawa Hospital: Building a workforce that reflects the communities we serve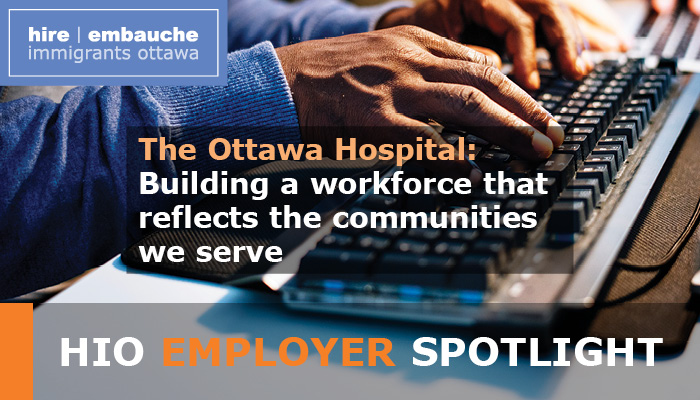 The Ottawa Hospital at a Glance.
The Ottawa Hospital (TOH) has a history dating back to 1845 but one would never describe it as a place that is moored in the past. TOH is a fast-paced, ever-evolving, state-of-the-art hospital with a multi-campus academic health sciences centre serving the 1.2 million residents across the National Capital Region, Eastern Ontario and Nunavut. Over the next decade, TOH will see unprecedented rates of retirements and an increasing need for talent. Every year, TOH welcomes approximately 1,000 new team members into the organization.
TOH also serves a growing and more diverse city. In order to reflect the communities served and provide top care to all Ottawa residents, the hospital has enhanced its focus and commitment to equity, diversity and inclusion, and ensuring that newcomers are a part of the workforce.
Forward Thinking Policies and Utilizing Best Practices for Diversity and Inclusion
TOH works hard to attract skilled talent and has diversified its pipeline and interviewing practices to meet its growing talent needs and those of the community. TOH's Talent Acquisition team participates in various coaching, networking and career fairs with various partners including World Skills, Ottawa Community Immigrant Services Organization and Hire Immigrants Ottawa (HIO). Most recently, TOH participated in a Virtual Job Fair hosted by JVS Toronto's Canada InfoNet program that provided a unique opportunity to connect with over a thousand internationally trained professionals coming to Canada, and newcomers who were looking for employment opportunities. In partnership with HIO, TOH has hosted health care coaching events to support newcomers with resume building, interview skills, developing professional networks and job hunting in the National Capital Region's health care sector.

TOH shares job postings and has built strong partnerships with local immigrant service organizations with diversity initiatives in order to reach a broader pool of candidates. In a volunteer capacity, some of the TOH staff have also shown their commitment to supporting newcomers in Ottawa by mentoring immigrants in the community. Several TOH Human Resources professionals have participated in HIO's Cross-Cultural Competency Training, affording them a deeper understanding and appreciation of the challenges faced by new immigrants during their job search. The market for recruitment is a competitive one, and partnerships like these are a business imperative for The Ottawa Hospital. The hospital continues to work with HIO in order to provide more of their leaders with HIO's Cross-Cultural Competency Training and other kinds of supports with respect to equity, diversity and inclusion.
Embedding Change
New TOH staff have access to "myHR: Caring at TOH," an online onboarding portal that has been developed to serve as a one-stop-shop for providing a thorough orientation to the work environment for diverse employees. It includes practical information about the organization, the workplace culture, available supports, and training opportunities.
Across the organization, TOH leadership demonstrates the value of diversity and inclusion and have put in place the requisite practices and policies to foster a welcoming workplace.  TOH leaders participate in cross-cultural competency awareness training and unconscious bias training during the interview process. TOH is a two-time recipient of HIO's Employer Excellence Award for their outstanding work in promoting immigrant inclusion.
TOH has partnered with the Canadian Centre for Diversity and Inclusion (CCDI) to work on issues relating to diversity, inclusion, human rights, equity, and human resources practices in the workplace. Four members of TOH Human Resources team had the opportunity to attend the CCDI 2020 Conference to enhance their capacity relating to cross-cultural competence, the differences in cultural orientation, and how to build cultural competency within an organization.
Diversity and Inclusion, Compassionate Care
TOH continues to make great strides in growing and supporting a diverse workforce and ensuring that employees are engaged and valued. Employee happiness and sense of belonging are paramount. "When employees and physicians are engaged – this naturally translates to a better staff experience, which in turn creates a better patient experience – which is our ultimate goal at The Ottawa Hospital," said Karen Johnston, Officer, Engagement, Diversity and Inclusion.
According to Renée Légaré, Executive VP and Chief Human Resources Officer, "it is important that our staff reflects the diversity of the community we serve. Providing compassionate, high-quality care requires dedicated individuals who can cross the divides of faith, language and culture."