2015 Employer Excellence Award Recipient
Congratulations to Epocal!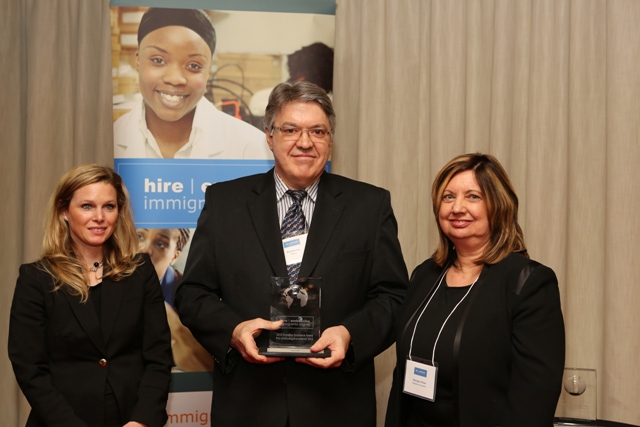 On the lunchroom wall of health care technology firm Epocal hangs a map of the world. Employees are encouraged to pin their names to their places of origin. The company takes pride in the fact that there are pins from one end of the world to the other.
Epocal's flagship product is epoc, an enterprise point-of-care blood diagnostic system based on the ground-breaking research of company founder Dr. Imants Lauks, who himself hails from another country.
Attracting and retaining top talent from around the world is crucial in the competitive and high-stakes healthcare technology industry. Epocal recognizes international academic, professional and work experience qualifications at face value, and on par with Canadian credentials.
To ensure every candidate gets a fair shake, Epocal provides as much visual information as possible before an interview, including facility tours, and holds to a standardized interview methodology. Each candidate is evaluated based on their merits and observed behaviours.
In partnership with World Skills, Epocal takes part in targeted recruitment events to break down barriers to employment through face-to-face meetings with new Canadians. Effort is made to connect applicants and new hires with existing members of the team with common cultural experiences. Informal mentoring and buddy systems naturally occur throughout the organization due to its multicultural nature.
On-the-job training for new hires, and one-on-one feedback and evaluations by "people managers" support this informal process. Regular orientation sessions focus on Epocal's history, culture, employee resources and support programs, expectations of employee behaviours and performance, and safety training.
On the flipside, those in leadership positions participate in management training sessions, which include cultural sensitivity training.

 Epocal also provides language development training and support for employees who request it, and will cover the cost of off-site English-language training courses. This helps staff to participate and feel included in the company's open-door culture, in which all everyone is encouraged to share ideas, concerns and knowledge.
Employees' cultural or religious practices are accommodated with flexible time off and a casual work environment. An Employee Events Committee actively encourages employees to share holidays and events important to them, and drives awareness across the company of its cultural diversity.
"We have seen the positive results and the enrichment of our organization in the hiring of skilled immigrants," said Debra Daniels, Recruiter. "The breadth and depth of knowledge and experience within our organization could not have been achieved without expanding our search and embracing the immense advantage of hiring internationally educated and trained candidates."