The Ottawa Hospital
Providing Unparalleled Care in the Community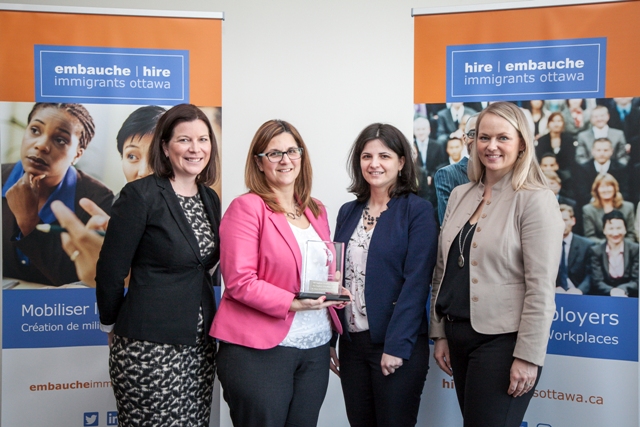 The Ottawa Hospital (TOH) is a multi-campus academic health sciences centre serving the 1.2 million residents of Ottawa and Eastern Ontario. Over the next decade, TOH will see unprecedented rates of retirements and an increasing need for talent. Every year, there are 2,500 job opportunities at TOH.
Immigrants present a significant opportunity to help TOH meet the talent demands and to continue to provide unparalleled service and care in the community. A diverse and multicultural hospital whose employees have a variety of skills and experiences allows TOH to better serve the community. It also boosts creativity and complex problem-solving abilities amongst staff – a particular advantage in the health care environment that is often faced with challenging scenarios.
TOH is continuously working to seek out opportunities to source potential candidates and diverse talent, including newcomers. TOH shares postings with local immigrant service provider organizations and has built strong partnerships with diversity initiatives in order to reach a broader pool of candidates. TOH has hosted and participated in several local coaching events and job fairs to support newcomers, understand their challenges and connect with local talent. In a volunteer capacity, some of the TOH staff have also shown their commitment to supporting newcomers in Ottawa by mentoring immigrants in the community.

The recruitment staff at TOH understand and champion the importance of cultural diversity in the workforce. Almost the entire talent acquisition team has participated in cross-cultural competency training, helping them to develop a deeper understanding of perception, unconscious bias and problem-solving in an intercultural environment. Recognizing the importance of building the capacity to work across cultures, one of TOH talent acquisition staff completed HIO's train-the-trainer Facilitating Cross-Cultural Change program. This enabled TOH to build and support in-house lunch and learn sessions across the organization at different functional and leadership levels.
New TOH employees are supported with information and guidance to help prepare them for their role and understand and navigate the organization. Prior to starting, new hires receive information on where to park, what to wear, and what to expect with orientation and onboarding. The onboarding is comprehensive and includes electronic learning modules on a variety of topics and a one-day corporate orientation program. New employees are also buddied with senior staff in a similar position to help provide on-the-job training, communicate the norms of the unit and provide an informal avenue to ask questions.
It is not just the recruitment team that understands and values diversity within TOH – the leadership team are championing and actively participating in dialogue and action to support a diverse and inclusive hospital. TOH has embedded prayer rooms for employees at each campus, built-in support for smudging ceremonies and created spotlights and organization-wide recognition for various cultural celebrations. Organizationally, exit interview and internal transfer survey tools now solicit feedback on perceived barriers to diversity and inclusion, offering TOH the data to showcase success and continuously improve.
Immigrants present a significant opportunity to help TOH meet talent demands and to continue to provide unparalleled service and care in the community. Diversity in the workplace is key to competitiveness and the ability for TOH to provide each patient with world-class care, exceptional service and the compassion we would want for our loved ones.