Employer Learning Exchange
A panel of experts including employers and a skilled immigrant employee discussed how disruptive technologies are changing the nature of work, creating new opportunities of seeking and retaining talent.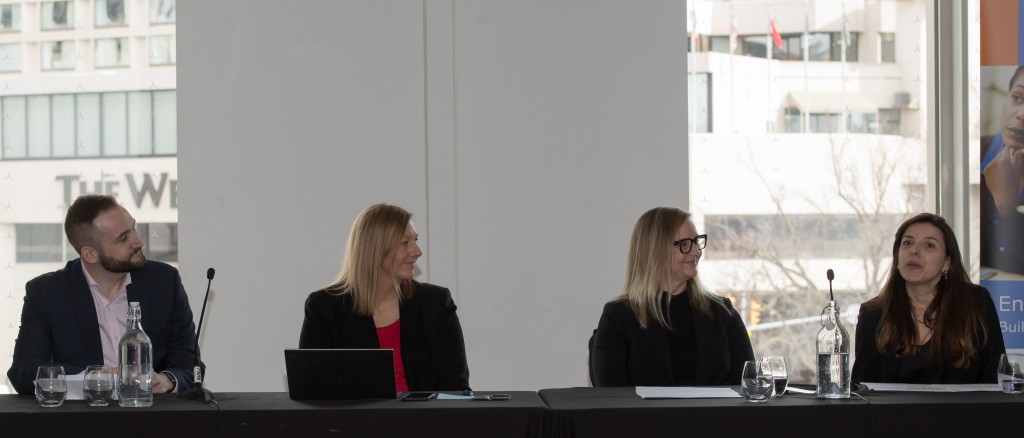 How can Ottawa businesses "future-proof" diversity, inclusion and belonging?
A leader in sourcing and finding the right talent for the job, James Baker of Keynote Group knows a thing or two about using advanced digital technologies for executive search and recruitment. He discussed how the world of sourcing is evolving, gone are the days of "key word" based searches, he says. His company uses predictive psychometric assessments, AI and data-driven scoring to find the best fit for the job, wherever they might come from. He also emphasized the importance of coaching in fostering a sense of inclusion and increasing success for all.
Sandra Saric of Inclusive Path is an avid tech enthusiast and leader, focused on helping organizations with strategic growth and inclusive innovation. Sandra spoke about the importance of diversity and inclusion for innovation and for meeting talent demand, and the importance of collaboration between industry and government to leverage global talent in Canada's digital economy.
Erin Stein, VP Talent Acquisition, Global Recruitment, Royal Bank of Canada, talked about how RBC is using unique tools and strategies, including innovative technology-based tools to conduct global employee recruitment, and to foster learning, engagement and advancement within the organization. She emphasized that for an organization to thrive in the future economy, they need to think about finding unique ways to attract and retain newcomer talent.
When asked about what she thinks her career will look like in the future, Aline Ragazzi, Digital Marketing and Admin Intern, Iversoft, replied, "I really don't know where I will be". She explained that the economy is changing so quickly that it is difficult to predict the nature of this change. Adaptation will be key, and while she embraces change, she also hopes to achieve a level of career stability and associated benefits.
All panelists highlighted the importance of adapting to change, and that inclusion and belonging will be key to successful employee engagement regardless of the nature of the work and the workplace.
Smashing the Glass Ceiling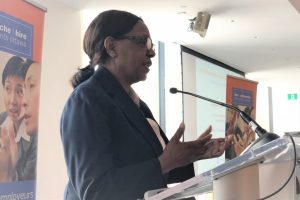 Inspector Isobel Granger of the Ottawa Police Services and author of Smashing the Glass Ceiling spoke about diversity, inclusion and race relations in the workplace. Drawing on her own career experience as a black female police officer – the first black female officer to join the ranks with the British South Africa Police in segregated Rhodesia (now Zimbabwe) and one of the first five black female officers with the Ottawa Police Service in 1994.
She highlighted the ways in which she has seen workplaces evolve over time, and how they will continue to change. She spoke of the toll that oppression takes on individuals and on employees, describing her struggles in the workplace and how much she had to prove herself every step of the way and the injustice of delayed promotions. She also talked about the opportunities that she has had to make a difference for others. She closed her presentation by encouraging immigrant job seekers in the audience to strive on. "There is no reason in this country, there is no reason for you to not achieve and work to your full capacity" she said.
Work Transformed: The Impact of Technology
Mark Chapeskie, Director of Programs and Development, EHRC, shared highlights of a labour market intelligence report, "Work Transformed: The Impact of Technology", from Electricity Human Resources Canada, on the impact of technological innovation on the Canadian electricity sector workforce. The report can be found here: