Putting Ottawa on the Map
With demand for talent in Ottawa at an all-time high, becoming and remaining an employer of choice is key to attracting and recruiting top talent. At a recent Hire Immigrants Ottawa Employer Learning Forum, thriving and award-winning businesses shared their experiences on how creatively attracting and including immigrant talent in their workplaces has been key to business success and growth. For these employers, the business community plays a key role in creating welcoming workplaces and communities that attract talent to Ottawa.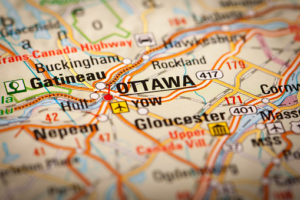 The 2018 HIO Employer Excellence Award recipients shared their experiences, strategies and tips on how to become welcoming workplaces that attract top talent. While panelists spoke to the work of their organizations, they urged the Ottawa business community to band together and "put Ottawa on the map" as a destination of choice and work together to ensure that people who come to Ottawa, stay in Ottawa and share their success with others.
Setting the tone for the conversation, Keira Torkko, VP Employee Experience, at Assent Compliance said that "Diversity is not the goal, it's the expectation." She shared the importance of creating and maintaining a culture of inclusion at the very top, and throughout the organization "Coffee with the CEO" is one way they do this, where each new employee meets with the CEO and builds a casual non-work related connection (for example, through a book they each read at the CEO's suggestion).
Christopher Mayema-Panda, Community Manager at RBC Royal Bank and Minyi Zhang, Supplier Engagement Specialist at Assent Compliance highlighted the importance of organizational reputation and diverse networks in attracting talent. "Great people know great people," said Mayema-Panda showcasing employee referral programs as an ongoing source of skilled talent for RBC Royal Bank. Zhang shared that she learned about Assent through a friend – another international student – who was working at Assent Compliance and felt it was a welcoming place.
Dave D'Oyen, Inclusion and Innovation Builder, at Shopify and Makini Borde-Simpson, People Development Manager at Real Decoy emphasized the importance of inclusion once you recruit talented individuals. Examples for how to create welcoming workplace cultures that foster retention ranged from ensuring that prayer rooms or "room of requirement" are available, to meeting employees and their families arriving at the airport, to celebrating the religious and cultural holidays of all employees. An important take-away was that any opportunity to accommodate and proactively include immigrants within the workplace oftentimes results in greater inclusion of other employees – inclusion breeds inclusion.
Panelists did not shy away from challenges in attracting and retaining diverse talent and what more can be done to foster diverse, welcoming and inclusive environments. Difficult questions about how to change organizational culture and embedded practices; how to effectively train on diversity and inclusion for all employees (without resulting in a backlash); how to have difficult and necessary conversations about systemic racism and oppression; how to move the diversity and inclusion work into the mainstream of the organization; and how to create safe spaces – and for whom?
While there are no perfect answers to the many questions posed and the discussion that ensued, what was clear is that Ottawa employers are ready to have these difficult and bold conversations and take action. It is this commitment and drive to building truly inclusive workplaces and communities that can and will continue to push employers to be winning workplaces and put Ottawa on the map.