2018 Employer Summit and Awards – An Overview

This year's Summit engaged over 180 employers, civic leaders and stakeholders to discuss the need for bold leadership to foster inclusive workplaces that maximize the benefits of a diverse workforce, the effective integration of skilled immigrants into the labour force, and to celebrate employer excellence in Ottawa.
Standing up for Inclusion
The Summit Keynote Address was delivered by Hadiya Roderique, a lawyer, writer and speaker, who gave an inspiring address that included her personal journey in the legal profession, and challenged the audience with difficult questions about how workplaces approach the issue of diversity, hiring practices and exclusion. Ms. Roderique left the audience with concrete actions to take back to their workplaces in order to affect change. Read more…
Leveraging the Power of Diversity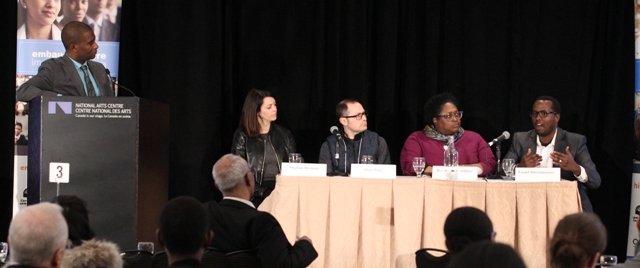 A panel of employers discuss how to move the agenda on inclusion in order to maximize the potential of diversity. Drawing on experiences from their own workplaces and challenged with direct and difficult questions from the audience, panelists engaged in an intense and honest conversation about how to build inclusive workplaces. Read the panel summary…
Outcomes over Optics


"Diversity is being invited to the party. Inclusion is being asked to dance," said Kate Morican, Partner at Deloitte. Presenting on Deloitte's recent Outcomes over Optics report, Morican shared key findings for what Canadian companies can do to leverage the benefits of diversity by deliberately and boldly acting to create more inclusive workplaces.
Deloitte's research shows that highly inclusive companies achieve better results, bringing more Canada to the world by being better equipped to compete internationally, challenging the status quo and delivering better financial performance and employee growth. Read the presentation summary …
"Everyday Acts of Inclusion"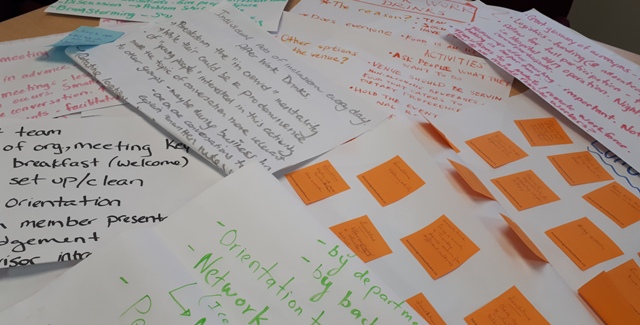 Summit participants engaged in generative discussions to identify practical day-to-day actions and behaviours that can be adopted to build trust across difference and to help create and foster a welcoming and inclusive workplace culture. These included simple ways to help new employees from different cultures feel effectively welcomed; to more complex actions, such as how to identify a colleague that may be experiencing exclusion and how to intervene.  Through these engaging discussions, participants shared how small everyday acts of inclusion are important because they build a culture of inclusion in the workplace. Participants left with new ideas they can use to contribute to building inclusive workplaces.
Inclusion Story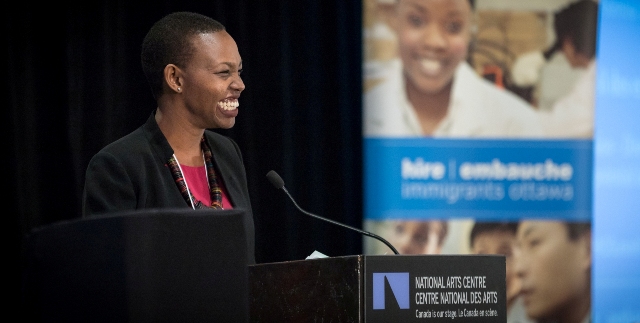 Diane Tuyishime, a communications specialist with Refugee 613, shared her inspiring and moving personal and professional journey from Burundi to Canada. She shared examples of simple actions that employers, colleagues and community members have taken to make her feel she belongs, highlighting that these are the "moments of simple human connection that make up inclusion."
2018 Employer Excellence Awards – HIO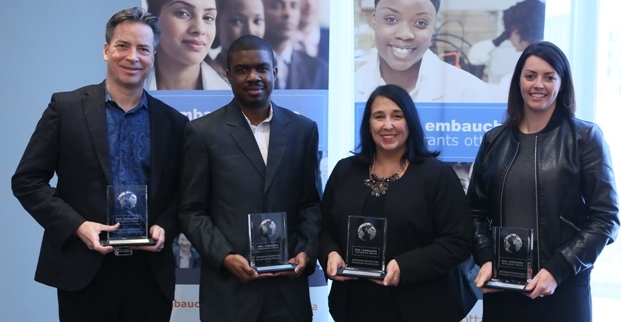 Four local employers, Assent, RealDecoy, RBC Bank and Shopify, were recognized with the 2018 Employer Excellence Awards for their outstanding and innovative practices in the recruitment and retention of skilled immigrants in their workplaces.Learn more about each Award winner and how they are incorporating diversity and inclusion in their workplace – Award winner profiles and videos…
2018 Employer Awards for Newcomer Employment – IRCC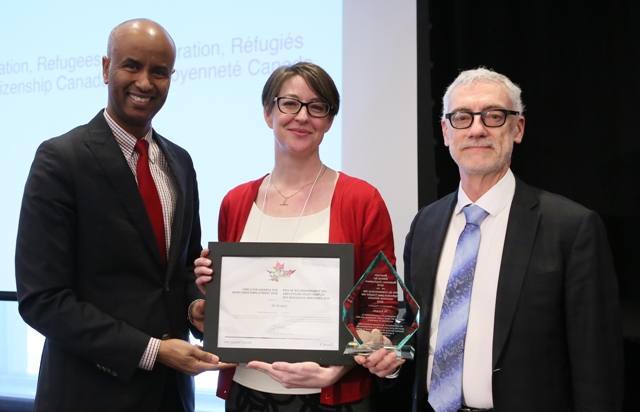 The Honourable Ahmed D. Hussen, Minister of Immigration, Refugees and Citizenship Canada (IRCC) was on hand to help with the presentation of IRCC's 2018 Employer Awards for Newcomer Employment. In his remarks, Minister Hussen, highlighted the important role of employers in supporting the successful settlement of immigrants to Canada, and acknowledging the efforts being made by many employers across the country to welcome and leverage the talents of newcomers.
Three organizations; Danby Appliances of Guelph, St Amant of Winnipeg and Paramount Fine Foods of Toronto, received 2018 Employer Awards for Newcomer Employment.