Think Global, Act Local – Harnessing Immigrant Talent can help Ottawa Businesses Address Biggest Challenges
The 2018 Ottawa Business Growth Survey revealed that employers are optimistic about the future of their businesses and have confidence in the local economy going forward. More than two in five respondents say their organization plans to recruit new employees over the next year. However, Ottawa businesses have consistently identified that finding skilled workers, attracting new customers and attracting new business are significant concerns that may impede business growth.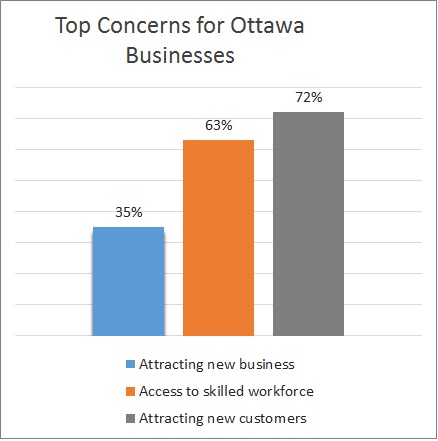 While there are many ways that businesses can begin to address these concerns, effectively leveraging the talents of skilled immigrants in Ottawa can help address all three challenges for businesses. Immigrants are a source of talent, a strong and growing customer base and are entrepreneurs and business owners.
Every year, Ottawa welcomes over 6,000 new immigrants and immigrants now make up 23% of the city's overall population. Ottawa's workforce is continuing to age and there will be more and more retirements in the coming years and a greater need for skilled workers at every level.
Ottawa is a magnet for talent. A greater percentage of highly educated immigrants live in Ottawa, compared to any other Canadian city. Fifty-four (54%) of all working-age recent immigrants in Ottawa have a bachelor's degree or higher. Immigrants are not only highly educated, they bring international work experience and business insights, speak multiple languages, and have access to diverse global and local networks.
Despite the demographic changes we face, the growing immigrant talent pool and the challenges that businesses are most concerned about, many employers are not fully utilizing the skills of immigrants. The result is costly and harmful.
The unemployment rate of recent working-age immigrants in Ottawa is a striking 15.2% compared to 7.1% for Canadian-born residents of the same age group. This high unemployment rate remains, even for recent immigrants with a bachelor's degree or higher. When immigrants in Ottawa access employment, they are often working in jobs far below their skill level and not earning enough. The result is that 19% of all immigrants in Ottawa are low-income (nearly 40% for recent immigrants). In 2015, the median income of recent immigrants in Ottawa was hovering around $30,000 – which is more than $26,000 less than the median income of the Canadian-born population. These statistics paint a stark picture of the challenges faced by Ottawa's immigrants – and the impacts are felt in their communities and families.
There are also costly repercussions for local businesses and the economy at large.
Immigrants are not just skilled workers, they are also consumers and customers. They are buying and setting up new homes, raising families, travelling, buying goods to send overseas, paying taxes and much more. When immigrants are gainfully employed, they contribute more to tax revenue and have greater disposable income to spend on local goods and services. The result is good for business and good for the economy. The underutilization of immigrant's skills and education is estimated to cost the Canadian economy between $13.4 to $17 billion annually. Immigrants are a growing segment of Ottawa's population, not actively and effectively engaging this population in the labour market is a missed opportunity for Ottawa businesses.
Businesses see the importance of building and expanding opportunities for investment and local enterprises and understand how this will help drive future success for their companies and the economy. Opening opportunities for immigrants can drive success in this area as well.
Immigrants are entrepreneurial. After four to seven years in Canada, immigrants have a higher propensity to own a business or to be self-employed compared to the Canadian-born population. There is evidence to suggest that Canadian "immigrants have resources such as access to international networks that provide competitive advantage over non-immigrant owners that export or aspire to export". Research has shown that a one percentage point increase in the number of immigrants to Canada can increase the value of imports into Canada by 0.21 percent, and raise the value of exports by 0.11 percent. In Ottawa, where the immigrant population hails from more than 160 countries, there is a considerable opportunity strengthen access and ties to new markets.
For Ottawa businesses to grow, they need a skilled workforce. In the last two years, one quarter of Ottawa businesses felt that access to skilled workers had worsened. Yet, there is untapped and underutilized talent in immigrant communities. If we can close the gap, Ottawa businesses stand to benefit considerably. The benefits of having a diverse workforce cannot be overstated. Globally, racially and ethnically diverse companies are 35% more likely to reap greater financial returns. For Canadian companies, recent research shows that a 1% increase in workplace ethno cultural diversity results in 2.4% increase in revenue and 0.5% increase in productivity.
Immigration contributes to business development and economic growth in Ottawa, whether it's as a source of skilled labour, entrepreneurial spirit and business development or consumer growth. Tapping into global talent already within our local community is a smart move for Ottawa businesses.