Payments Canada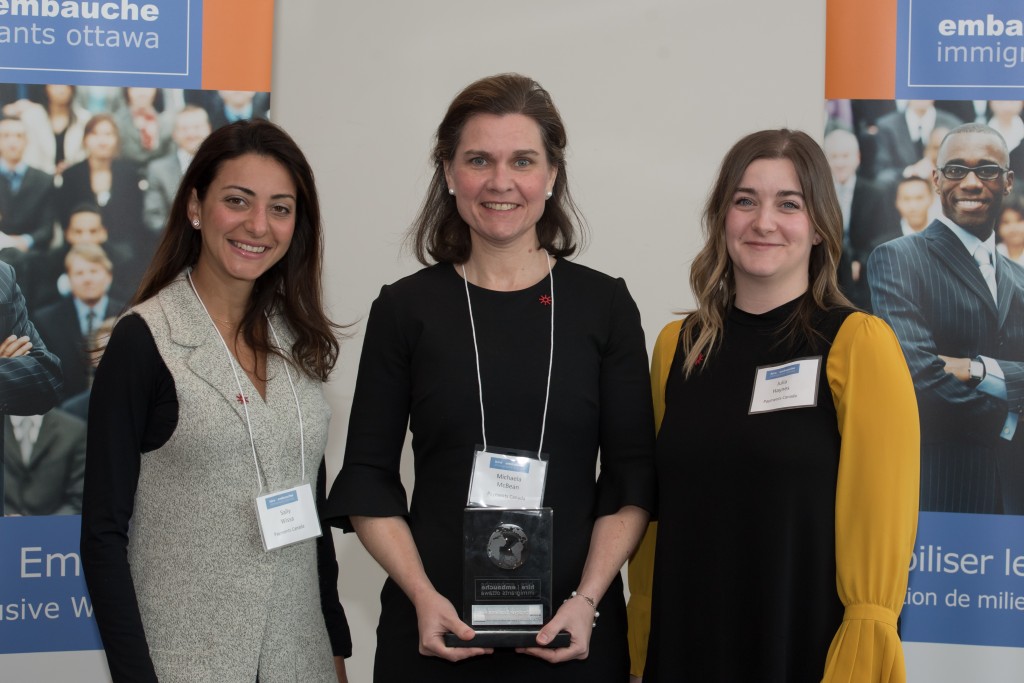 The Canadian economy depends on the exchange of billions of dollars each day, and Payments Canada is delegated by the federal government to meet the payment needs of consumers and businesses. Building and maintaining a diverse and inclusive work environment is critical to the company's ability to remain competitive in a global world and to support its business mandate.
Headquartered in Ottawa with more than 230 full-time staff, Payments Canada recognizes that every newcomer brings something unique and adds tremendous insight to the workplace. The company leverages partnerships with immigrant communities and organizations such as World Skills Employment Centre, attends diversity job fairs, and uses the Global Talent Stream of the Temporary Foreign Worker Program to recruit skilled immigrant and international talent. These outreach efforts resulted in the successful recruitment of 26 skilled immigrants, or 39 per cent of total hires, in 2019.
"Payments Canada is honored to be awarded the Hire Immigrants Ottawa 2020 Employer Excellence Award," says Tracey Black, CEO, Payments Canada. "Employees with diverse backgrounds and experiences strengthen our organization, enrich our culture and enhance our future."

During the screening phase, tactics are employed to ensure that all candidates are assessed equally based on their qualifications and suitability to the position. Plain language, clear communication, and interview scores ensure consistency and avoid unconscious bias. Once hired, new employees undergo a comprehensive, one-year onboarding process, which involves receiving a welcome bag, being paired with a buddy, playing a 'bingo' card designed to build knowledge about the company's organization and culture, and attending regular check-in meetings. The Influencers Program, where 14 representatives from Payment Canada's different lines of business explain their work, also helps to keep new employees informed and engaged.
A continuous learning culture, cross-cultural competency training, paid time for learning (e.g., attending conferences and seminars, taking courses), a learning budget to gain certifications or licences, employee assistance to support integration and settlement, personal development opportunities (e.g., public speaking sessions), and recognition programs are all designed to maximize employee success. In addition, managers meet regularly with new employees to set individual business goals, discuss overall performance, and encourage continuous improvement and feedback.
A strong emphasis on the benefits of diversity and inclusion—through team-building efforts, social events, cultural holiday observances, a multipurpose quiet room where employees can fulfill their physical, spiritual, and religious needs, and the publication of personal stories on the intranet site—fosters respect and inclusion.
For Payments Canada, diversity of thought, innovation, and increased collaboration have contributed to the company's improved ability to operate on a global level.