Employer Learning Forum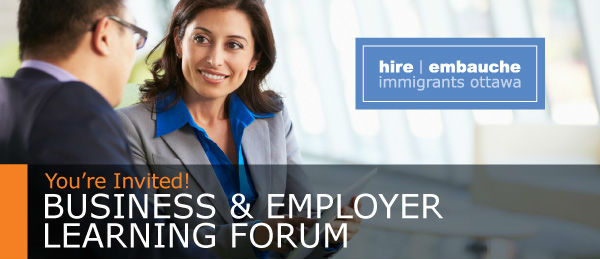 November 18th, 2015
Smart Hiring: Proven Strategies for Recruiting Immigrant Talent
Finding the right talent is more than posting a job opening, screening resumes, interviewing candidates and checking references.
Hire Immigrants Ottawa  invites you to a session on – Smart Hiring: Proven Strategies and Programs for Recruiting and Integrating Top Immigrant Talent.
Join a panel of employers who will share their successes in utilizing the services of local agencies and programs to enhance their recruitment practices to find the diverse talent they need, as well as deepen their community connections.
Participants can expect:
To learn about the range of programs and services available to support employers and businesses find, recruit and integrate top global talent in Ottawa – going beyond traditional methods.
To learn from Human Resources Managers who have benefited from using these programs and services
An opportunity to network with peers, representatives of local programs and services, and skilled immigrants
WHEN: Wednesday, November 18, 2015 (1:00PM to 3:30PM)
WHERE: Export Development Canada (EDC) 150 Slater Street, Ottawa, ON K1A 1K3
ADMISSION: FREE – Advance Registration Mandatory by November 16, 2015
REGISTER: Online or by email at: events@hireimmigrantsottawa.ca by November 16, 2015 (there will be no registration at the door)
For additional information, please contact Lorena Costa at: events@hireimmigrantsottawa.ca or 613-228-6715.