Employer Learning Forum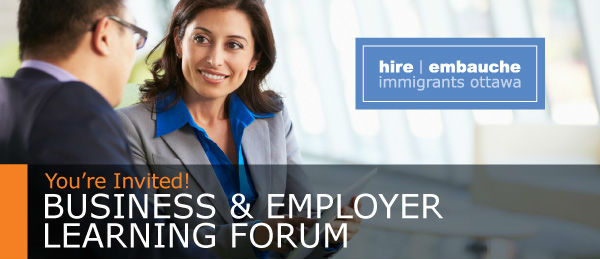 June 23rd, 2016
Winning the War for Talent: Award-Winning Employer Practices.
Being recognized as an employer of choice brings tremendous value to any business or organization competing for top talent. The 2016 Ottawa Business Growth Survey identified access to talent as the #1 problem facing businesses in Ottawa. Thriving businesses succeed in the hunt for talent by being diverse and inclusive.
Hire Immigrants Ottawa  invites you to a session on – Winning the War for Talent: Award-Winning Employer Practices.
Join a panel of the 2016 Employer Excellence Awards winners – Ottawa-based businesses and organizations who will share their innovative strategies and practices in hiring and effectively integrating talented newcomers into the workplace.
Participants can expect:
To learn about the innovative HR approaches and practices from the award winning businesses on recruiting and integrating top global talent in Ottawa – going beyond traditional methods;
To learn how recruiting for diversity can advance your organization's mandate or business line;
To gain insights into how employers are developing creative strategies to be inclusive to all talent, and;
An opportunity to network with peers, representatives of local programs and services, and skilled immigrants
WHEN: Thursday, June 23, 2016 (1:00PM to 3:30PM)
WHERE: Export Development Canada (EDC) 150 Slater Street, Ottawa, ON K1A 1K3
ADMISSION: FREE – Advance Registration Mandatory by June 21, 2016
REGISTER: Online or by email at: events@hireimmigrantsottawa.ca by June 21, 2016 (there will be no registration at the door)
For additional information, please contact Lorena Costa at: events@hireimmigrantsottawa.ca or 613-228-6715.