Employer Learning Forum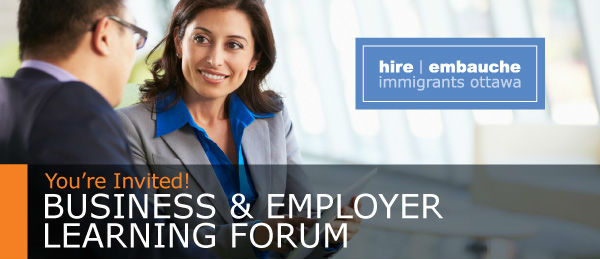 November 28, 2019
Need help finding talent?
Almost half of the respondents to the 2019 Ottawa Business Growth Survey reported that they plan to hire new employees over the coming year, however, access to skilled talent is a growing concern.
Hire Immigrants Ottawa invites you to a forum on Smart Sourcing: Proven Strategies and Programs to help you Connect with, Assess, and Hire Top Immigrant Talent.
Hear from World Education Services about assessing international skills and credentials, employers, representatives from local immigrant employment programs and a federal internship model on supports for employers to source, recruit and engage diverse talent in Ottawa.
Participants can expect:
To learn essential information about credential evaluation when sourcing global talent;
To learn about the range of programs and services available to support employers and businesses find and recruit top global talent in Ottawa; and
An opportunity to network with peers, representatives of local programs and services, and skilled immigrants
Speakers include:
Beth Clarke, World Education Services (WES)
Wendy Miyagawa, Amnesty International Canada
Claire Forman, Federal Internship for Newcomers (FIN) Program, IRCC
Representatives of local immigrants services organizations
WHEN: Thursday, November 28, 2019 (1:00 PM to 3:30 PM)
WHERE: Export Development Canada (EDC) 150 Slater Street, Ottawa, ON K1A 1K3
ADMISSION: FREE – Advance Registration is Mandatory by November 22, 2019 (there will be no registration at the door)
REGISTER: Online
AUDIENCE: Employers, Small to Medium-size Enterprises, HR Practitioners and Managers.
For additional information, please contact Lorena Costa at events@hireimmigrantsottawa.ca or       613-228-6715.