Employer Learning Forum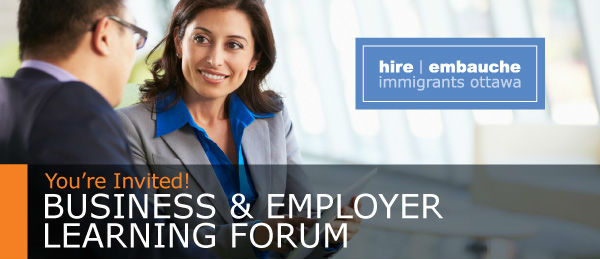 June 21, 2018
Welcoming Workplaces are Winning Workplaces.
Learn how to create a diverse and welcoming workplace to position your organization to attract top talent.
With demand for talent in Ottawa at an all-time high, becoming and remaining an employer of choice is key to attracting and recruiting top talent. Thriving businesses succeed in the hunt for talent and winning out the competition by building a strong reputation as welcoming and diverse workplaces.
The evidence is clear that the culture of a workplace and how employees feel within it is one of the most important factors in where top talent will go – and stay.
Join a panel of experts and Employer Excellence Award winners who will share their experiences, strategies and tips on how to become welcoming workplaces and magnets for talent.
Participants can expect to:
Learn firsthand how welcoming workplaces can help businesses attract top talent;
Gain insights from HIO's 2018 Employer Excellence Award Winners;
Learn practical tips for creating a welcoming workplace; and
Opportunities to network with other businesses and with skilled immigrants.
WHEN: Thursday, June 21, 2018 (1:00 PM to 3:30 PM)
WHERE: Export Development Canada (EDC) 150 Slater Street, Ottawa, ON K1A 1K3
ADMISSION: FREE – Advance Registration is Mandatory by June 15, 2018  (there will be no registration at the door)
REGISTER: Online or by email at events@hireimmigrantsottawa.ca
AUDIENCE: Employers, Small to Medium-size Enterprises, HR Practitioners and Managers.
For additional information, please contact Lorena Costa at events@hireimmigrantsottawa.ca or       613-228-6715.