Employer Learning Forum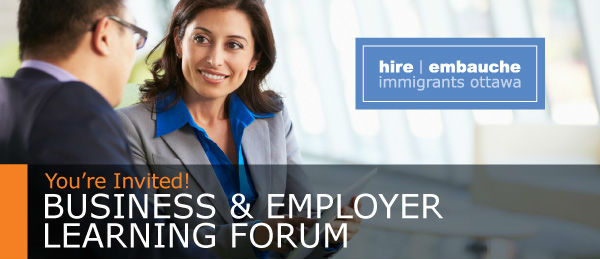 Wednesday, June 19, 2019
Fostering Inclusive Workplaces: Winning the Competition for Talent
Are you looking for innovative ways to recruit and retain talent for your organization?
63% of Ottawa Businesses report talent acquisition and retention as a top issue of concern. The evidence is clear that diverse, inclusive and welcoming workplaces are ones where people want to work – and stay.
Learn from HIO's 2019 Employer Excellence Award-winning organizations as they share their experiences, strategies and tips on how to create a diverse and welcoming workplace.
Presenters:
Kevin Lim, Lim Geomatics
Andree Kaspardlov, The Ottawa Hospital
Tracy Foster, Cuso International
Joelle Cupidon, Cuso International
Natalie MacArthur, Invest Ottawa
Participants can expect to:
Learn firsthand about strategies business leaders are implementing to attract global talent to Ottawa and workplaces;
Gain insights from Invest Ottawa and from HIO's 2019 Employer Excellence Award Winners;
Learn practical tips for creating a welcoming workplace; and
Opportunities to network with other businesses and with skilled immigrants.
WHEN: Wednesday, June 19, 2019 (1:00 PM to 3:30 PM)
WHERE: Export Development Canada (EDC) 150 Slater Street, Ottawa, ON K1A 1K3
ADMISSION: FREE – Advance Registration is Mandatory by June 12, 2019 (there will be no registration at the door)
REGISTER: Online
AUDIENCE: Employers, Small to Medium-size Enterprises, HR Practitioners and Managers.
For additional information, please contact Lorena Costa at events@hireimmigrantsottawa.ca or       613-228-6715.