Employer Learning Forum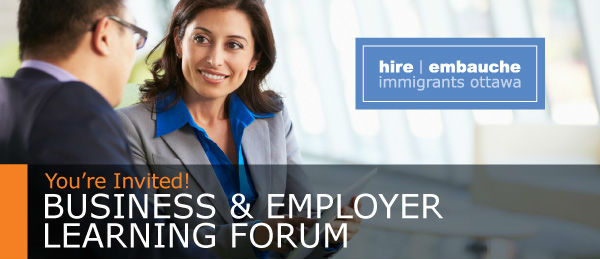 Wednesday, November 28, 2018
Building a Culture of Belonging in the Workplace: Attract Talent and Foster Success.
Research shows that a diverse workforce ignites creativity, innovation and business results, while diverse and inclusive workplaces outperform their competition. However, tapping the potential of our diverse workplaces is only possible when employees are actively included and feel they belong. A culture of belonging adds brand identity to businesses. Furthermore, talent attracts talent – culturally diverse talent who feel they belong act as ambassadors for the organization to their peers.
How does an organization build a culture of belonging – especially within diverse teams? Policies alone are not enough to make it happen. What works and why?
Hire Immigrants Ottawa, The Ottawa Board of Trade and Chartered Professional Accountants Ontario invite you to join a panel of experts, employers and skilled immigrants who will share their experiences and strategies on how to build and foster cultural inclusion and belonging within diverse workplaces.
Participants can expect to:
Understand the importance of inclusion and belonging to the success of diversity initiatives and the success of your business/organization;
Gain insights from recent research on cultural inclusion in the workplace;
Learn practical firsthand tips from skilled immigrants on how to create a sense of belonging in your workplace; and
Network with other businesses and with skilled immigrants.
WHEN: Wednesday, November 28, 2018 (1:00 PM to 3:30 PM)
WHERE: Export Development Canada (EDC) 150 Slater Street, Ottawa, ON K1A 1K3
ADMISSION: FREE – Advance Registration is Mandatory by November 21, 2018 (there will be no registration at the door)
REGISTER: Online or by email at events@hireimmigrantsottawa.ca
AUDIENCE: Employers, Small to Medium-size Enterprises, HR Practitioners and Managers.
For additional information, please contact Lorena Costa at events@hireimmigrantsottawa.ca or       613-228-6715.