Leveraging the Power of Diversity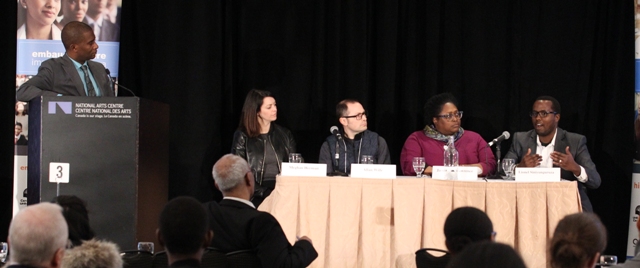 What are the challenges you face in making an inclusive workplace?
Challenging the status quo and working in a regulated environment with set processes. Said Jacqueline Lawrence, Diversity & Equity Coordinator at the Ottawa-Carleton District School Board (OCDSB).
"We're in the business of knowing. In the educational sector, that sense of not knowing is really fearful. It calls for us to be comfortable with the unknown," said Lawrence.
Within the OCDSB, 43 per cent of the student population is racialized, whereas only 8 per cent of staff are. Lawrence said this is an issue they need to work on to ensure staff are trained on inclusion and equipped to teach in their diverse classrooms.
Recently, a joint union management task force on diversity and inclusion was created to identify opportunities for improvement in order to foster greater diversity and inclusion in Canada's public service.
Lionel Siniyunguruza, Employment Relations, at The Professional Institute of the Public Service of Canada, said the task force developed a diversity and inclusion lens to identify if individuals are biased in their decision-making. Siniyunguruza said six government departments are now experimenting with blind recruitment, hiding not only names but also gender, age and education from recruiters to overcome unconscious bias.
The idea of hiring for "cultural fit" has been a particularly prevalent for tech firms. What is the notion of "cultural addition" and why is this important?
Meghan Herman, Head of Inclusion and Innovation at Shopify said they first look at what the current team needs – not organization-wide, but within the specific team they're hiring for. What's the opportunity to add a cultural perspective?
"To design the best product and bring creative solutions to problems around the table, it's essential to have a diverse team," said Allan Wille, President and CEO of Klipfolio.
Imagine you're in an escape room, Wille said. You're there with five other people that look like you, your age, same background. In another room, you're there with people from different cultures, languages, perspectives on life. Which team will get out first?
"I guarantee it will be the second, more diverse team," he said. "It's the same in business – to solve creative problems, we need different perspectives around the table."
How do we create workplace cultures where people are culturally competent, but also where you can make mistakes and learn?
The consensus across the panel was to start the conversation and be deliberate about creating safe, open, diverse spaces.
"When you don't create space for people to ask what they see as unintelligent questions around diversity, it can create a lot of protectionism and animosity towards strategy overall and really derail where you want to go," said Herman.
Shopify launched "Inclusion Connectors" that invite people to talk to the inclusion team in a one-on-one environment to ask any questions they have around diversity.
At OCDSB, Lawrence said they have a similar program called "Date with Diversity" where they invite community partners to get together in a space where employees can ask questions without the fear of saying the wrong thing.
"We've provided safe spaces to have discussions because it's in conversation that transformation occurs," she said. "It's going to be messy but it gives us an opportunity to start those conversations. I'd be more concerned if you weren't having those conversations at all."